Making mugs is such a fun way for kids to express their creativity, but sometimes it's nice to have a few easy mug designs to get the creative juices flowing! Mugs by themselves are cute, but when paired with a treat and good company they can be the catalyst for great conversations. Add our activity kit printables, and your kids have a recipe for fun connections with their family history!
Dishwasher Safe Mug Designs
I did several hours of Pinterest research and product testing for you so you can have a mug built to last! Our activity kit comes with all the materials you need to create an adorable mug that will be a treasured keepsake. If you follow the directions in your kit your mug will withstand the dishwasher, but I noticed that over several months they do start to fade. I recommend hand washing, but if they get thrown in the dishwasher by accident you won't lose those precious designs!
Before you get too excited and start drawing your design, make sure you use the cotton ball to wipe down the mug with rubbing alcohol and let it air dry (doesn't take long). The mug in your kit will accept pencil markings so it's okay if kids aren't quite sure what they want their design to look like! They can just sketch their design with pencil and trace over it with the paint pen. If they make a mistake with the paint pen, rubbing alcohol will remove it. Cotton balls are provided for large areas and Q-tips are provided for more detailed erasing.
If your child doesn't have an idea of what they want to create, here are some fun and easy mug designs to spark their imagination. 
You can use the included contact paper in your kit to cut out a letter or shape. Press it firmly to the mug and dot the area around it. The shape seems to be most defined when the dots are more concentrated around the shape and slowly disperse as they get further away. You can see our dotted shape below, but they also look great with initials and letters!
A note about contact paper. It's sticky, and sometimes it's really hard to get the paper backing off. After several minutes of trying, my 10 year old boy couldn't bear to watch me andymore and asked to try. He put a piece of tape on the paper side (we used scotch tape and it worked just fine). Then he pulled on the tape while trying to pry apart the sticky side from the paper. It seems like that wouldn't be any different from just trying to separate it with your fingers. I don't know why it works, but it does!
Mug Designs that Preserve Your Child's Handwriting
Writing Phrases Adding a child's writing to a mug is such a fun way to preserve the unique handwriting of your child or grandchild! Kids can write their name or a cute phrase they say a lot. Even a family saying or inside joke would be fun to add!

Writing their Name A kid's name will look cute all by itself, but I loved putting it in the middle of the dotted shape we made above.

Writing in a Design Another fun variation on handwriting is to have the child draw a shape or design in pencil. Then they could write their name and other family names where the lines would go in the drawing. When the writing fits properly around the shape, go over it with the pen. Give it a minute to dry and then erase any remaining pencil lines.
Mug Designs that Tell a Story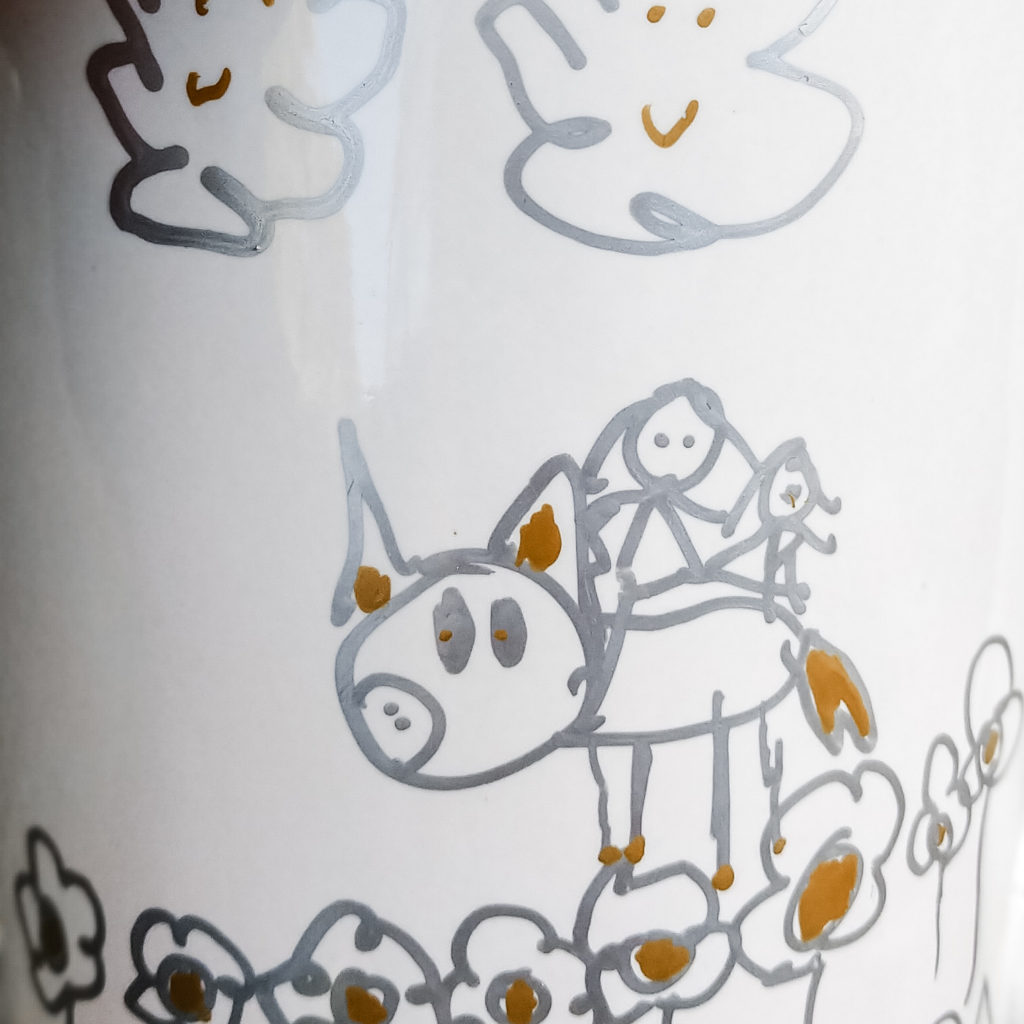 Try drawing a favorite memory or family story on your mug. People who see your mug will likely ask about the drawing and you can connect with more family stories! You could also draw something that's important to you or your family. My daughter drew this picture of her and her grandma riding a horse together. It's such an adorable design, and she will think of her grandma and their fun adventures every time she uses this mug!
Easy Mug Design: Geometric Patterns
Geometric designs are super fun to experiment with. You can try scalloped designs, patterns, repeated shapes, etc. You could put them around the bottom edges, cover the whole cup, or put them inside a shape or letter. I love that these mugs are decorated with gold, since our kits come with a gold or silver pen. You get to choose!
Shapes and Patterns for Mugs
These fun black and white designs would look great in the silver or gold colors that come with our activity kits. One of these inspiration pictures shows a heart with a design in it. You could choose any shape and fill it (or surround it) with lines, dots, chevrons, or any other pattern! If you like the leaf design, you could write family names in the leaves. Family names could go in the blank spaces of mugs with patterns. The options are endless!
Easy Floral Pattern Mug Designs
Floral patterns are also quite fun for kids. Try one flower, a garden of flowers, or cover the entire mug in flowers! The inspiration pictures here are bowls, but this would be so cute on a mug! You could also write family names as the flower stems.
Ideas for Connecting with Family
Having your child or grandchild's creations preserved on a mug is special, but don't stop there! Enjoy a drink together while telling stories about your family. Did you know each kit comes more than 10 additional activities kids can do with their creations? And you guessed it, they all help them connect with family! You can start with the printable in your kit that is specially designed to help kids learn about what life was like for their parents and grandparents when they were kids. These connections can help kids understand that you were once little and enjoyed some of the same things they do! This can give kids great strength when life gets hard, and can help them feel comfortable turning to you when they struggle. Each of our activity kits is focused on giving kids fun opportunities to have these meaningful connections that will help strengthen them. 
These free printable detective notebooks have a whole list of questions kids can ask family members to get to know them better. And if you want to try out an activity kit, you can get 10% off by joining our monthly email list full of fun activity ideas!